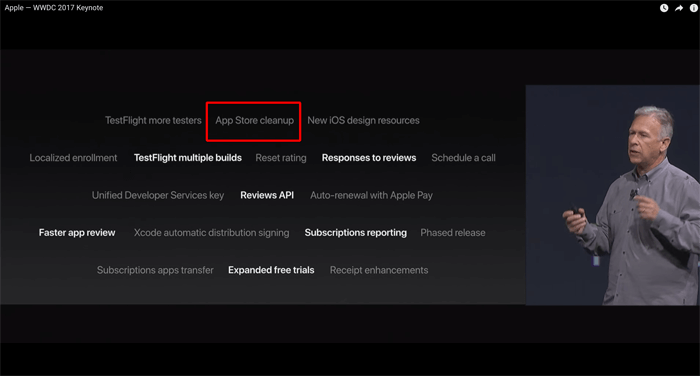 As of June 2017, Apple announced new rules designed to reduce the number of spam and clone apps on their App Store. Section 4.2.6 of their latest guideline clearly states that: "Apps created from a commercialized template or app generation service will be rejected."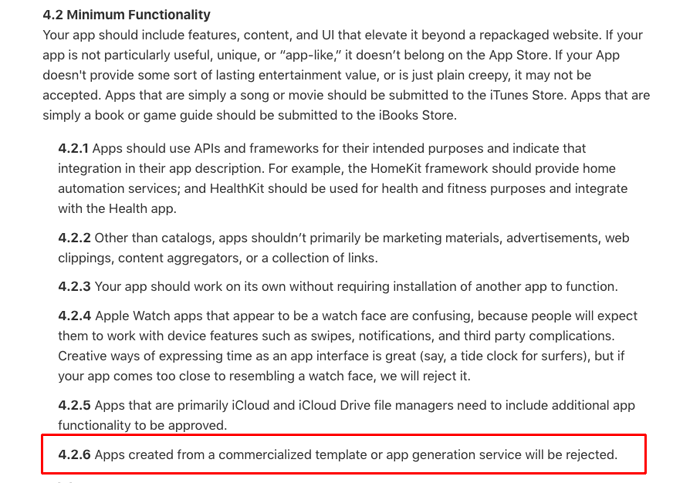 Apple's new design guideline
Unfortunately, some app makers seem to be directly affected by this new rule. While we are certain they are working their hardest to circumvent it, there is a lot of confusion about the subject at the moment.
In an effort to answer your questions about this difficult situation, we will keep updating this page with any new information we can get. Feel free to share your own experience with app makers and iOS submissions in our comment section.
GoodBarber
As of the 11th of September, GoodBarber is announcing an improvement in the situation.
Users who already have an app on the App Store can safely update them again
GoodBarber are reopening submissions to iOS
They are pushing through with the migrations from V3 to V4
They are working a new commercial offer that will increase the chance of App Store submissions being accepted
As one of the largest app makers out there, GoodBarber was severely affected by the new rule, and they have completely halted submissions to the App Store. In short, you cannot currently publish a GoodBarber app to iOS.
Note that they advertise a proposal fee of $450 for each app submission, but this is not applicable at the moment. All we know so far is that they are trying a new solution with Apple as their latest update as of August 22nd suggests (available for GoodBarber users in the backend).
AppMachine
The latest update found on the 29th of August in the user dashboard suggests AppMachine can now publish to iOS again. One of the changes made was "the introduction of a more detailed pre-check before submission". It does not guarantee publication, but should help you continue working on your app until you get it right.
Similar to GoodBarber, AppMachine cannot currently publish apps to iOS. You can read a copy of the email they sent to resellers, as found on CodeCloud.net.
Shoutem
According to Robert Sekulić, head of marketing at Shoutem: not a single app was affected by the 4.2.6 guideline. We should say that they are probably your best bet for getting apps to the App Store at the moment.
As you may know, they are currently updating their v4 platform to v5 – however none of the apps in either versions have been affected. Explaining the reason for their success, Robert said:
"Our v5 platform, based on React Native, provides a way for users to build truly native mobile apps (…). Clearly, Apple doesn't want web apps with a native container around them to be present in the App Store. Hybrid apps will never be able to achieve the performance, speed, security and reliability of native apps and provide fluent user experience Apple requires."
This could also be thanks to their new approach of being as developer-friendly as possible: "although you can use our pre-build modules, you can change both design and functionality in the app's code to adjust it to your business needs".
And finally, Robert praised their internal review system: "our internal reviews are harsh. Our team reviews every app submitted and if there's something missing in, e.g., not enough content or missing interactive features, we will reject the app and guide users what needs to be changed in order to submit it on our end to the App Store. In this way, we're taking every step of precaution to ensure that your app will be accepted and published in the App Store."
BiznessApps
On the 30th of August, BiznessApps confirmed that users can still submit their apps to the App Store. However, they will have to pay an additional $499 fee per iOS app. This is for the costs of an internal review and eventual changes to the app. In the same email, the CEO stated that:
the fee is refundable if the app is rejected
BiznessApps is still taking on resellers
they are in direct contact with Apple.
BuildFire
BuildFire co-founder Ian Blair told us in an email on the 29th of August that the company is not affected. They have provided one example of an app published to iOS during the week.
Swiftic
Our answer after contacting Swiftic is the following:
"While we are submitting to the stores as usual, we are well aware of the new guideline change by Apple and its impact on the market.
Our submission and development teams are going through each and every submitted app, making sure it is aligned with Apple's new guidelines."
AppInstitute
It would appear AppInstitute can still publish apps to the App Store. Ian Naylor, CEO and Founder of AppInstitute states that although they've seen a reduction in the number of apps being approved, he believes it is not the death of all app building platforms.
"Variations on these Apple guidelines have already been in place for a long time and is simply a way for Apple to ensure apps released on their App Store offer value to their customers in terms of native device functionality. Something we also believe is important which is why we have always, as standard, reviewed all apps that are submitted to Apple with no cost to the customer.
Change comes with any industry, whether they are shifting markets or emerging technologies, it is simply an evolution. We're a technologically forward thinking company and used to innovating, thinking outside of the box and being agile in terms of how we react to find new opportunities and the best solutions for our customers and businesses."
AppYourself
According to our last email with AppYourself CMO on the 29th, AppYourself can still publish to the App Store. They haven't had any rejections and are still able to submit individual apps, as well as apps for their partners.
The CMO also had a positive outlook on the situation. In an email conversation, he wrote: "I believe Apple doesn't want to end all app builders, but to reduce the time their review team spends on poor apps and the costs associated. They probably want to increase the quality of submitted apps in terms of layout, design and mainly functionality – more interactive and unique features, better value for the end-user."
AppyPie
We were contacted directly by AppyPie who submitted proof that some apps were published on the App Store.
In a SD Times article published on August, 16th, AppyPie CEO Abs Girdhar admitted one their apps was recently rejected. "If this continues, it can have a major impact on DIY app platforms, which will eventually have an impact on small business owners," he said.
What about Google's Play Store?
As is often the case, it would seem that Apple and Google have very different ways of doing things. The latter is equally affected by "bad apps" but they are sweeping them under the rug rather than destroying an entire side industry.
In contrast to Apple, Google is very strong on search and is able to just remove low-quality apps from their search algorithms. This seems like a much fairer approach to us, one that works quite well for the World Wide Web.
So what happens next?
Unfortunately at this stage the answer is the same for everyone: we don't know. As you can imagine, Apple's decision could have a disastrous effect on thousands of small businesses who use drag and drop builders for their apps. There isn't much to do except wait and see.
However, here are some takeaway points:
Certain app makers could work around the problem by adding a fee for each App Store submission, like BiznessApps. We imagine they will keep the same platform for users, but will "disguise" the app with some custom coding before submitting to Apple. In short, you will have to pay for the time of their development team.
As a reseller, you could increase your chances if each iOS app is published under your client's own developer account. Making sure the name of the company and the app matches could also help. This is all conjecture at this point.
If you have an iOS app in your pipeline with an unaffected app maker, you should maybe think about rushing the submission. There is no guarantee that your app maker will be able to keep submitting to the App Store forever.
Apple has not banned "template apps" retrospectively. This means that your previous iOS apps made with app makers are ok. For now it's probably safer not to update the app.
It would be great if all the affected app makers could work on a unified approach on how to deal with this issue as it affects so many of them. It is a delicate situation as they are all competitors, but we'd happy to facilitate this communication.
If anyone has contacts at Apple, it would be very interesting to get a clearer picture: Is this blanket move going to be temporary? Is it just to kill off clone apps? Or is it going to permanently affect all app makers?
Once again, do let us know about information you have regarding this situation as many users are waiting to know what to do next.