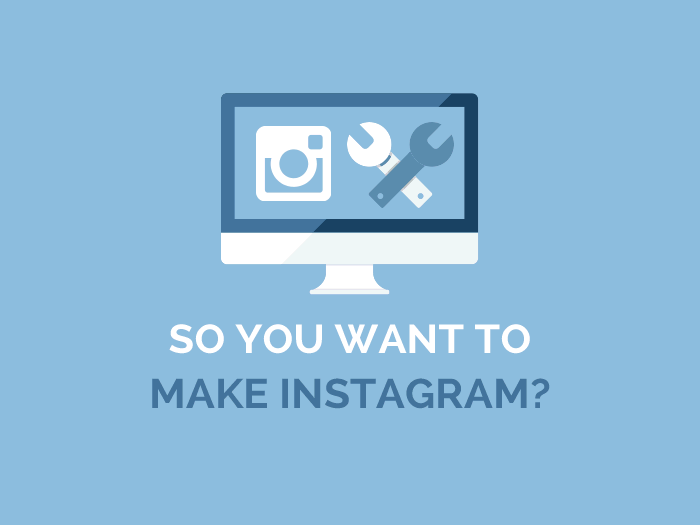 Are you thinking of creating your first mobile app?
Well then you're in good company. Almost every day we receive questions from readers just like you who want to create their own app. The good news is you don't need any programming experience at all. Also, it's become a lot more affordable.
Some ask how to create the next big social media platform, or perhaps they want to 'have a small classifieds site, kind of like eBay!' Well, it's time to settle matters once and for all with your definitive guide of what you CAN and CAN'T do with an app maker.
Contents:
Lifestyle & Entertainment
News Apps
You CAN: easily create a news app with most app makers, and it's actually a pretty popular style. The reason being that RSS-feeds are used heavily in the news sector and app makers have great RSS-feed integration. What's an RSS-feed? It's basically a format for delivering fast-changing content, such as a blog or a news site, allowing you to keep up to date with new articles or headlines.
If you don't want to use RSS-feeds, you can also create a more static content. This would work better for a publication that wasn't as time-sensitive, with longer reads (more like evergreen content). Most app makers also have the capacity to integrate video content too via embedding, or integrating, popular video platforms like YouTube.
You CAN'T: use other people's content without permission, or attributing it to them (aka 'stealing'). In fact, I'd be inclined to steer clear of using other people's content if you can create your own, unless you're creating the app for a specific news body of course. You also can't include paywalls, as in-app purchases don't really work with most app makers. It's either a paid app, or a free app.
Who we'd recommend: GoodBarber, Shoutem and AppMachine. Also check out our dedicated blog post on the topic here.
Game Apps
You CAN: create your own game app with predefined environments, functions and elements by using an app maker like GameSalad. If you want more info on this topic, we have a dedicated blog post here.
You CAN'T: create Candy Crush (or Pokemon Go). Even though they might seem simple, they're huge games with many complex elements. But you can create a small indie game, and GameSalad is one of the only app makers that allows in-app purchases, so you can monetise your game!
Who we'd recommend: GameSalad
Fitness Apps
You CAN: create a fitness app, and a relatively robust at that, with videos and written content. This could include workout sections for different muscle groups, or circuits etc. You could also add a dietary section which includes nutrition information and recipes. Users can also 'favourite' their top exercises, routines and recipes for quick access.
Cookinfit créé avec GoodBarber
Ajoutez vos recettes et exercises preferrés au marque page
You CAN'T: create premium content that requires in-app purchases, as with other app makers. You can, though, create a free version with ads (sometimes called 'lite'), and then a separate, paid version offering people extra workouts, recipes, or dietary plans. It might be difficult to add things like a countdown timer within sections, but you could get around that by including videos that go for the correct length of time. Also GPS trackers, and sections for users to input their own tracking data, would require extra programming, so not possible to do with an app maker.
Who we'd recommend: GoodBarber, AppMachine and Shoutem
Travel Apps
You CAN: definitely use app makers to create travel apps, as they make use of the content sections well. They also have great geolocation abilities, for example letting people know famous landmarks that are nearby, checking-in, and providing further location information.
We actually helped create a travel app, Barcelona Museums which is a good example of the capabilities, using articles, mapping and the ability to add places to a 'Favourites' section. You can even set up geolocated push notifications to let people know about deals, or places, they're near. It's good to note that once the app has been downloaded, they mostly work offline too, which is important if people are going to be using them in a foreign country.
Lecture d'articles
Fonctions geolocalisations
Navigation par menu
You CAN'T: create TripAdvisor. Aggregating user-generated content would require extra programming, and is beyond an app maker's base capabilities.
Who we'd recommend: GoodBarber and Shoutem
Small Business
App makers are particularly useful within this area, due to a number of features. Most good app makers allow you to create loyalty cards, or coupons, to reward returning customers. These can be used for all types of businesses, perhaps offering a free coffee for every ten purchased, or a discount if you spend over a certain amount of money. Push notifications are also useful in this category, not just standard notifications, but you can also utilise scheduled, segmented and geolocated notifications, giving your business more flexibility and allowing for more relevant, targeted promotions to your customers.
Local Business Apps
You CAN: easily create an app for your local business with app makers. Whether it be a hairdresser, cafe, health clinic, vet or tattoo parlour, you can allow your customers to easily book appointments and see your range of services via images or text. There are also app maker features for contact details and business opening hours info. Keeping in mind loyalty and notification options, app builders make a lot of sense for this market.
GoodBarber fidélisation – utiliser le Scanner
GoodBarber fidélisation – la fonction Check-in
GoodBarber fidélisation – Partage social
You CAN'T: add full ecommerce functionality, due some limitations. See the below section for further information.
Who we'd recommend: GoodBarber, AppMachine and Shoutem
Ecommerce Apps
You CAN: create an app for your store (both bricks and mortar and online), either using integration from services like Shopify and Etsy, or by creating your own product catalogue and having a checkout in-app with a card or payment service like PayPal. You could also use loyalty features to great effect, especially discount coupons.
You CAN'T: create eBay, or any other composite seller app for that matter. Apart from legal issues involved, you also would need complex user options for separate sellers which would mean a massive back-end system that app makers just can't deal with. A happy medium could be a basic, local classifieds app that would work using social wall posts for example. Although it may not allow for uniform post consistency, so it's worth further investigation with the particular app maker you decide to go with if this is what you're after.
Dona Jo fait avec Shoutem – Catalogue
Dona Jo fait avec Shoutem – Product reviews
Dona Jo fait avec Shoutem – Panier
Who we'd recommend: Swiftic, AppYourself, AppMachine and Shoutem
Restaurant & Food Delivery Apps
You CAN: build a restaurant app that showcases your menu, opening hours and contact details, allowing people to reserve a table or simply order directly from your app and checkout with a card or payment service like PayPal. Geolocation features can be used to allow customers to find branches of your restaurant closest to them. If your restaurant is on a well-known delivery service, you can also link to your URL on that platform via integration within Swiftic and Shoutem, to take care of the delivery service. Once again, loyalty features would work well with these apps, as well as the varied push notifications, letting customers know of special offers.
Cotto Enoteca fait avec Shoutem
Cotto Enoteca fait avec Shoutem – Contenu
Cotto Enoteca fait avec Shoutem – Menu
You CAN'T: allow users to track their orders in real-time, as with some delivery apps out there. You also can't create your own restaurant delivery aggregator with a centralised payment system (like your own version of Eat24), only link to a restaurant's URL within those platforms if your app maker allows for the specific integration.
Who we'd recommend: Swiftic and Shoutem
Event Apps
You CAN: create an event app for either a one off, like a music festival, or perhaps a conference series. This is pretty easy for app makers as they have features for creating pages for individual speaker bios, talks or musicians, and a lot of them have live stream integration options too. You can also integrate calendar apps, or ticketing apps like Eventbrite, directly within the app, allowing users to see schedule information, buy tickets and even 'favourite' talks or artists that interest them. You can also include a map of the venue which may be useful for larger events.
You CAN'T:…well, there's not much you can't do in this area. App makers are perfectly suited for events, as long as you're not wanting to, say, live stream multiple VR feeds from different cameras of concurrent events, you'll probably fine with an app maker.
Who we'd recommend: Shoutem and GoodBarber
Survey/Questionnaire Apps
You CAN: create forms in most app makers, which might work for simple surveys. Or link to an outside quiz from within your app. You can also create a simple quizz with AppyPie.
You CAN'T: create SurveyMonkey or complex quizzes and questionnaires. It's also impossible to gather data and create statistics without custom development.
Take a look at: Appy Pie and AppsGeyser
Social
Social Network Apps
You CAN: create an app for a community group, using user features such as log in, simple profile pages, status updates, message walls, check-in and chat. Users can choose what information they want to share, and some app makers even allow you users to upload photos to your, and others, walls. As for events, app owners can add these, and users can add these to their calendars, mark as 'favourites' and comment on them. These events can also be shown on a map.
Cigar Dojo fait avec Shoutem – partage de photos
Cigar Dojo fait avec Shoutem – revues
Cigar Dojo fait avec Shoutem – Calendrier et évenements
You CAN'T: create Facebook. The social features on apps are limited in functionality to the basics mentioned above. For example, tagging people, creating multiple groups and pages, in-line live videos, these would be too complex for a social app created with an app maker. Apart from this, there's so much competition in this space that, if not creating a community group app, it's probably best to come up with a different idea.
Who we'd recommend: Shoutem and GoodBarber
Messaging Apps
You CAN: create a messaging app if you really want to. Keep in mind it will be quite basic, but it will allow users to chat to others, if they opt-in, and share a brief profile about themselves.
GoodBarber chat – Profiles
GoodBarber chat – la fenêtre du chat
GoodBarber chat – Gérer une conversation
You CAN'T: create WhatsApp. An app maker's back end wouldn't be able to handle the number of users or data, such as uploaded images and files. You also can't create your own emoji app. Some app makers, such as GoodBarber, have restrictions on the minimum number of features needed to publish an app. You'd need three, for example, with GoodBarber, but if you really wanted to create a chat app, you could just add two other simple features/sections such as a contact page and an about page.
Who we'd recommend: GoodBarber and Shoutem
Photo Sharing Apps
You CAN: almost create Instagram. Features within Shoutem, for example, allow people to: add friends, filter a feed to just show friend's wall posts, post photos directly from in-app, post videos (only within GoodBarber), like and comment on posts. You can even enable an activity photos feed, so that when users log in, they see a feed of photos by people they're following right on the home screen.
GigPic fait avec Shoutem – Photos
GigPic fait avec Shoutem – Artistes en tournée
Les évenements sur GigPic – fait avec Shoutem
You CAN'T: actually create Instagram. Why not? Users can't add photo filters in-app, and they can't filter their feeds to only show photos (so you'll get status updates and comments too). As mentioned earlier, this kind of an app is better for a small community. It's rare for an app within this category to gain more than a few hundred current users, so keep this in mind while planning your app.
Who we'd recommend: Shoutem
Fan Apps
You CAN: create a fanpage app showcasing your work, whether it be music, written or visual art. For musicians, you can add mp3's directly, or integrate your feeds from services such as Soundcloud or YouTube. You can also set up live streams of your events, such as concerts, directly within the app. If you're a visual artist, you can easily create a folio section of your work. For all artists, you can add community features such those mentioned above in the social media section. You can also sell your songs, art, books and other merchandise in-app.
Taylor Swift fait avec Mobile Roadie
Taylor Swift – Le mur
Taylor Swift – Videos
You CAN'T: as with other categories, create premium, in-app content, only sell your wares.
Who we'd recommend: GoodBarber, Shoutem and (if you have the cash) Mobile Roadie

Multilingual Limitations
When it comes to app makers, there are a few limitations with multiple languages and translations. It's not always easy to create a multilingual app due to most app makers limitations. But there are a couple of options!
Solution #1: Using the menu tiers, you can organise the app into two or more language sections. So the sidebar, for example, could show 'English' and 'Spanish'. Then the next menu tier for each would contain sections within the specified language.
Pros: This solution will work with pretty much any app maker.
Cons: You'll still have to choose one main language for the core app sections, also your menu layout might become bloated and difficult to navigate if you have a lot of sections. See an example here.
Who we'd recommend: AppYourself are a good candidate for this solution, as they allow you to add language-specific features to each language menu. Failing that, most other app makers allow for this kind of solution, yet slightly less elegantly.
Un example de navigation multilingue avec une appli de AppInstitute
Solution #2: Create (and publish) separate apps, each with it's own unique language. Shoutem and GoodBarber are both good option for this, as you can 'clone' your original app without re-creating every section. Of course, you'll still need to translate everything, but the structure will be intact. Shoutem do have the added benefit of giving you access to all the translatable text in one place, which should make the translation process slightly more manageable.
Pros: Better user experience, with the entire app being in the target language.
Cons: You have to pay for each published app separately. You'll also need to manage each separately, and it could be more difficult to rank them highly in the app stores.
Who we'd recommend: Shoutem or GoodBarber.
Hardware Limitations
Anything that requires your app to communicate with inbuilt sensory hardware, such as the accelerometer, gyroscope, bluetooth etc. will be hard to do, if not impossible with app makers. The reason being is that you'd need specialised software to communicate between the app and the hardware that aren't present within app makers, which means it would require extra programming.
You can of course create apps that enable the use of the camera, as mentioned above in the social section.
App makers aren't going to cut it…where to next?
There is a lot of information out there on the web that gives you facts and figures, and unfortunately we can't give you all the answers. Quora can be a good resource for this kind of information, for example this thread has useful information on finding developers. And, from there, you can usually find other topics related to costings and more.
If this is your first app, perhaps it's worth trying to build a pared-down version of your app with an app maker, instead of going straight to a developer. It's low investment and commitment, with all app makers offering monthly payment plans. If you do decide to go straight down the developer route, some people suggest not spending more than $4,000 on your first app. Some developers may laugh at this, but for a simple app, with just a couple of functions that app makers can't handle, you should be able to do it.