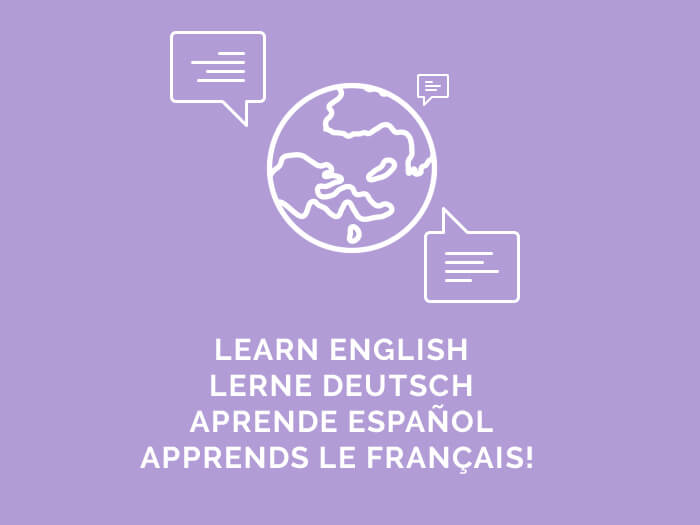 I don't know if it's because I've been researching the topic, but lately I've been bombarded with ads about new language learning apps. You guessed it: they all claim to be the best.
And while I'm sure technology makes it easier than ever to study on your mobile device, I've also personally failed numerous times to learn Spanish on my phone.
Maybe it's because I'm a bad learner. Or maybe some apps are less effective than others.
This is why I wanted to separate the wheat from the chaff and review different language learning apps to see which ones really work.
---
TL;DR Who Is The Best
Busuu is the best app that covers different language learning styles. Their Premium plan costs $9.99 a month. You can speak with natives, download lessons offline, and practice in your own time. Babbel is similar, but doesn't offer conversations. PrePly is good for finding a tutor online. Memrise uses the flashcard method and 90% of the features are free.
---
What Makes a Great Language Learning App?
It goes without saying, but first, the app needs to support the language you want to learn. Offering tons of obscure dialects isn't going to be helpful, because you're really only likely to learn one at a time.
Which is why I think it's much more important to focus on other parameters, such as:

Learning style: This is the big one. Everyone learns differently, but all my research suggests that you need to combine different methods to achieve fluency. The best language learning app should therefore give you flexibility in that regard, and I've created a selection that looks at various styles.

Proficiency levels: There are tons of apps that focus on strengthening vocabulary or memorising common phrases. Ideally, a good app would take you from complete beginner all the way to advanced learner.
UX: User experience is important for any app. More so with the ones you will use regularly, because a small frustration can become huge if you have to live with it ten times a week.

Extra features: Does the app work offline? Can you customize your lessons? Set goals and targets? Anything extra they can offer?

Price: Is it really possible to learn a language for free? Maybe! But most apps operate under a freemium model, so it's worth checking how much it will cost you in the long run.
---
What Didn't Make this List?
Any kind of phrasebook or vocabulary builder. Don't get me wrong, they are super useful when you're going on a short holiday abroad. But I wouldn't consider them language learning apps.
I've also disqualified platforms for online courses like Coursera and Udemy. Although you can learn languages through their apps, they're not specialising in language-learning.
---
Busuu – The Best All Rounder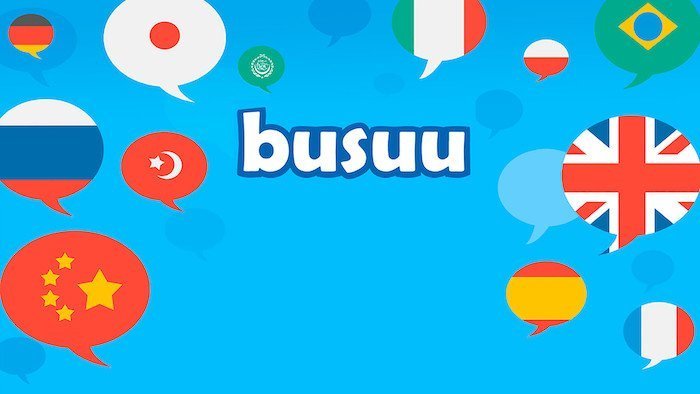 The Busuu app was first launched in 2010, and I'm not the only one who believes they're probably the best language learning app out there. It was named Best Language App by the German Association for Consumer Studies, Google Play and Bloomberg. And with 90 million registered users and counting, it's quickly becoming the most popular too.
So what makes it special? First, it's the research put into the method. You have everything you'd expect from a language learning app (quizzes, reviews, exercises and games), plus a vocabulary builder, grammar rules and cultural context.
But the killer feature is probably the peer-reviewed feedback from native speakers. After you've learned some vocabulary and grammar on your own, you can send out a conversation starter to the community. Your new friend will answer, give feedback on pronunciation, and you can keep the conversation going at your own pace. So it combines tutoring with social learning and immersion.
I should also point out that the app design is top notch. It's fast, responsive and intuitive, and you track your progress with percentages, scores and daily goals. That covers the "gamified" aspect of learning too.
Finally, Busuu is the only app I've tested that could probably take you all the way from beginner to fluent. It might take a while, but the wide range of learning methods and tools is sure to offer something for everyone – and at a competitive price point to boot.
The learning style: The complete combo of immersion, conversations with natives, games, quizzes and self-review.

Good for: Everyone from beginners to dedicated learners.
Bad for: The free plan is very limited compared to, say, Duolingo.
Extra features: With Busuu Premium, you can download the lessons offline, create a study plan and get feedback from real native speakers. You can also get a language certificate from McGaw Hill Education.

Price: Free (very limited), or Premium for $9.99 a month for 3 months; $5.83 a month for 12 months; and $5.41 for 2 years.
---
Babbel – Very Close Second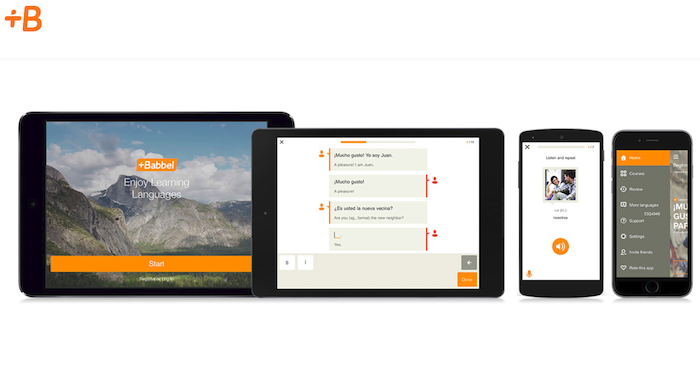 Deciding whether Babbel or Busuu should take the top spot was the hardest thing. The two apps are very similar in a lot of ways. The features are close, and so are the prices. They even have similar marketing soundbites, like "x amount of hours with our tool is equal to one college semester".
So Babbel also works with the quiz / review format. It mixes pictures, audio and words. You also get context in the form of conversation dialogues and grammar rules. Really, it's got everything Busuu does – except the peer-review system.
In fact, it might be the only reason Busuu came first. While Babbel is great for beginners and casual learners, it's just missing those real-life conversations to reach the top spot in this list.
The learning style: It's gamified, but you get context, grammar rules and dialogues. Then the standard reviews via flashcards, written responses, or spoken responses.

Good for: Casual learners who want an affordable, fun and efficient method. It's ideal for people who want to boost their language learning during short commutes or breaks as courses are broken down into 5 – 20 minute chunks.
Bad for: Depending on the language you choose, the number of courses can be limited. I'd say it's also good for beginners, but you might have a hard time becoming fluent with Babbel.
Extra features: You can download courses offline. Whatever progress you make offline is then updated on the cloud version so you can pick up where you left off.
Price: Only one free lesson when you sign up. After that it's $12.95 per month; $8.95 for three months; $7.45 for 6 months; and $6.95 for 12 months.
---
Duolingo – Gamified Learning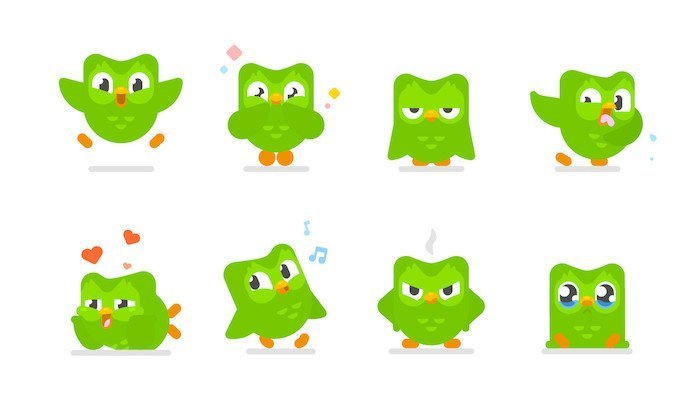 Duolingo is probably the most popular language learning app on this list. The app boasts more than 300 million registered users, and allows English speakers to learn 30 or so languages. Their owl mascot has been turned into a meme, and it's been around so long that there's even been a backlash against their teaching method.
The thing is, Duolingo was born from noble ambitions in 2009: to provide free language education to anyone with an internet connection. The iOS and Android apps were released a few years after the online platform, and they are completely free to use. There are, however, ads (which you can pay to remove).
Duolingo's app is somewhat hit and miss. While the interface and user experience are fantastic, it makes you feel like you're playing a mobile game rather than learning something. For some, it's what makes it fun and casual. For serious learners, it can turn into a button-pushing experience that leaves you frustrated as you don't get explanations or feedback.
Supported languages: It's a long list. It even offers courses for Esperanto and High Valyrian for diehard Game of Thrones fans.
OS: Android and iOS.
The learning style: It's gamified. You gain points, lose lives when you fail, and win a virtual currency (lingots and gems) to unlock bonuses.

Good for: Casual, fun learning. It's extremely intuitive, so even your grandmother can pick it up in seconds. I'd say it's a great tool if you combine it with other learning methods like real lessons.
Bad for: Feedback on your pronunciation. Cultural context. Understanding grammatical rules. Some of the pre-built sentences can be… unusual:
Extra features: You can set your learning goals in minutes per day. The virtual currency is fun, but pretty useless.

Price: Completely free! But you can buy Duolingo Plus to remove ads and download lessons offline. It costs $9.99 a month.
---
Preply – Find Your Tutor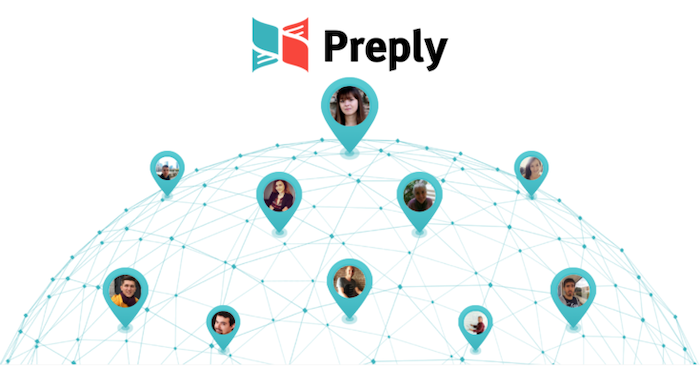 Preply is a bit different from other language-learning apps as it focuses on helping you find a tutor. So really, the quality of the courses will only be as good as the tutors themselves. The good news is that there are 29,000 of them from 185 countries.
The other good news is that you can create a ton of filters to search for the right tutor. It might take some time, but eventually, you should find one in the right timezone, price range, and teaching style. And if you're not satisfied with the first, paid class, you can reuse those funds to put towards another hour long trial.
Once you've filtered the right candidates, you can start taking lessons. They're done via Skype, but Preply will also create a calendar and lesson reminders, and it will manage all the payments automatically. After the first lesson, you must purchase hours in packs, the smallest of which is 5 hours.
At this point it's worth noting that Preply is nowhere near the only tutor marketplace available on your phone. But its focus on language learning and excellent user interface helps it stand out from the competition.
The learning style: Tutoring. So it depends on the tutor you find, but you can keep searching until you find someone whose style you love.

Good for: People who enjoy learning with tutors / teachers.
Bad for: You're paying trained professionals for their time. It can be expensive in the long run.
Extra features: Lesson reminders, store files shared during lessons, and tons of filters to find the right tutor.

Price: The app is completely free to download and use. But of course you need to pay the tutors, and they're not allowed to offer free classes.
Note: If you want to earn money as an online language teacher, Preply is currently looking for more tutors.
---
HelloTalk – Be a Student and Teacher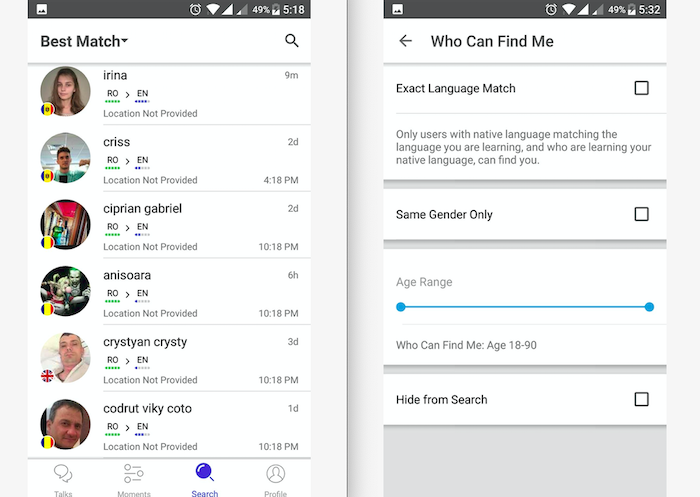 HelloTalk is simply the app version of a language exchange. Find someone who wants to learn your language. If they speak the language you want to learn, it's a match! You can start talking, texting and communicating to improve, both as a student and teacher.
While the concept is simple, HelloTalk is packed with smart (often paid) features that make it more than a Whatsapp for foreign language speakers. For instance, you can practice with a chatbot if you don't find a match. You can also comment publicly on posts, Facebook-style, to start conversations with strangers. The voice-to-text feature lets you convert voice messages into text if you're embarrassed to speak directly.
The app interface is excellent, and the communications tools work great. You can even send pictures or draw doodles to share ideas visually. And while you do have to create a personal profile, there are enough filters available to ensure you are only matched with the right people (same gender only, hide profile info, etc…).
Supported languages: Over 100 from more than 10M users. Of course, if you're, say, a Welsh speaker trying to learn Korean, your choices will be limited.
OS: Android and iOS.
The learning style: Language exchange. You communicate with natives and share knowledge of your own language at the same time. The only real teacher there is the app translation feature, which is limited and not free.
Good for: HelloTalk is really only as good as the language partner you find.
Bad for: The best features come with in-app purchases. Also, some users tend to mistake HelloTalk for a dating app.
Extra features: Tons of very smart implementations: chatbots, reminder to switch language, save corrections to review them, good search functions, etc…

Price: Free, but they're actively pushing for you to get the VIP membership at $2.99 a month.
---
Mondly – A World of Features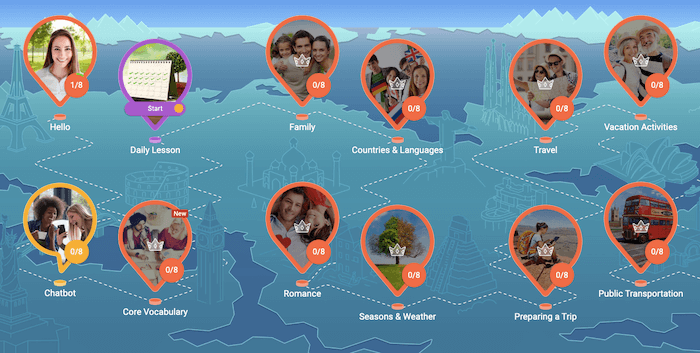 While still far from DuoLingo's popularity, Mondly is slowly growing its user base. More than 40 million users have used it to introduce themselves to a new language. I say "introduce", because Mondly is heavily skewed towards beginners in the 33 languages available.
This app combines daily lessons, a chatbot and VR lessons (one off fee of $4.99). I find the latter a bit gimmicky, but if talking to a virtual hotel clerk to practice your vocabulary works for you, then great! The chatbot is decent, and uses speech recognition to understand what you say – but expect some hit and miss.
If you give the app a quick try, you'll find it's very similar in look and feel to DuoLingo, albeit maybe a bit less well designed. Some of the interactions are also different (for instance dragging words up or down to select them), but the pros and cons are largely the same, as you'll see below.
I've only tested the Spanish course, but heard reports that the lessons are the same for all the languages. So it's easier for Mondly to create courses, but there might be errors in your lessons when things don't take the cultural context into consideration.
Supported languages: 33 languages
OS: Android and iOS.
The learning style: Learning through play. There is a chatbot and VR option to "Immerse" yourself in different scenarios.
Good for: Beginners and casual learners who want a daily exercise routine. Maybe good to combine with another tool.
Bad for: Serious learners. Grammatical rules. Pronunciation feedback.
Extra features: Already mentioned the chatbot and VR lessons. There's also vocabulary builders, conjugation tables and grammar features.
Price: The free version gives you limited content. Going Premium costs $9.99 per month for one language. You can learn all the languages at once with a yearly plan at $47.99. The VR add-on is a one time payment of $4.99.
---
Memrise – Flashcard Fun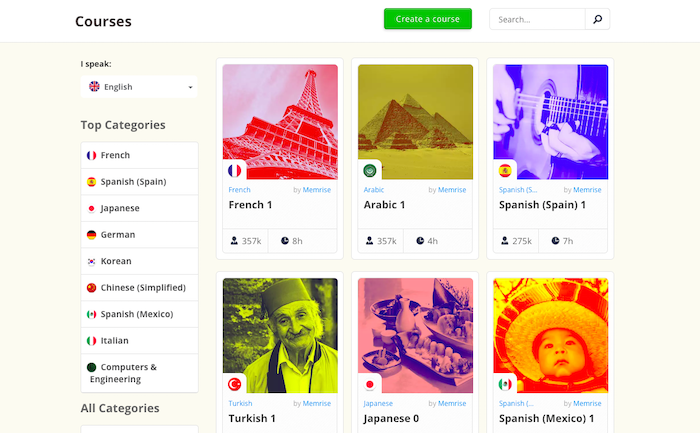 Memrise, as the name suggests, is a kind of memory game. It uses the concept of flashcards, and gamifies it to turn it into a learning experience. But there's more than quizzes via pictures, audio and text. Memrise also makes clever use of mnemonics to help you remember vocabulary and grammar.
Here's an example. Say you're an English speaker learning Spanish. A sentence you might get is the following: ""it's aburrido to eat a burrito with every meal" (it's boring to eat a burrito with every meal). The play on words between aburrido and burrito is supposed to create a mental image that sticks in your head. Fun, right?
But there's a bit of controversy here. In the past, Memrise allowed users to submit their own mnemonics to help other learners. You could pick and choose the ones you liked and add them to your account to review later. They've since discovered it was a recipe for disaster, with spammy and sometimes NSFW submissions. Turns out managing a community of 35 million users can be tough.
Still, Memrise is a great tool, and they're very generous with their free features. More than 90% of the app is completely free. You can purchase the pro version for $2.50 a month, which will give you learning stats, offline downloads, pro chats, and video mode, amongst others.
The learning style: flashcards and mnemonics. It's also gamified, with points and scores.
Good for: A fun way to remember vocabulary words.
Bad for: Intermediate or advanced users who want to push their learning to the next level.
Extra features: Video mode, chats, offline mode.

Price: free, and only $2.50 for the pro features.
---
Rosetta Stone – The Veteran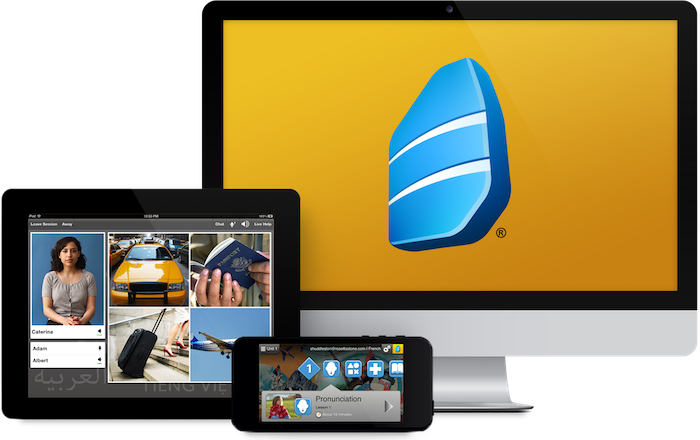 Rosetta Stone, named after the ancient stone slab that helped decipher Egyptian hieroglyphs, was first launched in 1992. As you can imagine, their method and technology has come a long way (I actually remember someone in my family learning the method through a huge box of CD ROMS).
These days, you can do it all from their app. And they've put a lot of effort and tech into it (and probably poured millions into R&D). For instance, you can use their patented speech recognition engine, TruAccent, to give you feedback on your pronunciation. It can be hit and miss, so not sure it's better than learning with a tutor (PrePly) or peers (Busuu).
Rosetta Stone is a strange company. My guess is that they managed to get in early in the language-learning-via-software game and have been resting on their laurels a bit. New apps might not have their speech recognition software, but they are better overall tools for going from beginner to fluent.
The learning style: It's a mix of immersion and high tech. The immersion part is that they never use English in their courses, so it's like being a kid in a new environment. It can be hard, but also monotonous and repetitive. The high tech is their patented speech recognition tool.

Good for: Enterprise clients seem to love them, so maybe good for justifying an L&D (learning and development) budget. A lot of languages you can't learn with anyone else.
Bad for: With Rosetta Stone, it looks like the learning method is designed to be as efficient as possible… for the company. So you get the same modules even if you learn different languages. Not great for understanding a culture and its people.
Extra features: You can also buy Rosetta Stone the old-fashioned way, via CD ROM or PC download.

Price: It works out around $12 per month, and you need to buy 3, 5, or 12 month plans. You also have to pay extra for the Live Tutoring feature, which is a monthly, 25-minute conversation.
Click here to try Rosetta Stone
---
LinguaLift – Textbook Meets App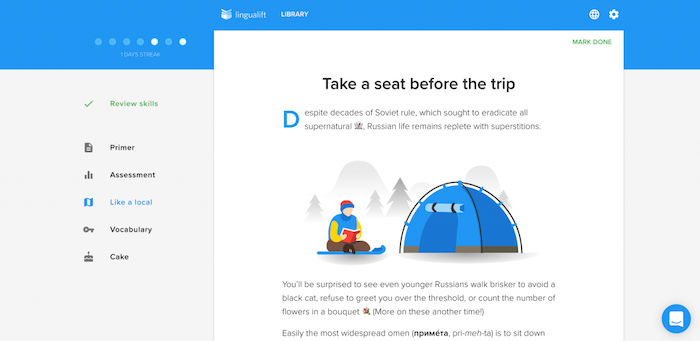 Let's start with a con: LinguaLift isn't cheap. It costs $29 a month, which only lets you learn one of three languages (Russian, Japanese or Hebrew) on your phone or computer. You get access to a Vocab Lab, a Verb Academy and some games.
So why the price? Well, LinguaLift is a complete method that comes with well-crafted, reviewed and tutor-approved lessons. In fact, you can even talk to tutors to ask questions and review points. They'll even assign you homework if that's your thing.
Now, unlike with other user-generated content apps, you are sure to get in-depth lessons that touch upon a country's history, culture, grammar or etiquette. In fact, a lot of the content is text-heavy, so you'll learn more "around" the language than how to speak clearly. It can be good for some, and who knows, maybe paying monthly could be a big motivator?
Supported languages: Russian, Japanese and Hebrew only.
OS: Android and iOS.
The learning style: It's very traditional and textbook-like. A few fun elements thrown in, like the "Cake" section, which rewards you with easy-to-digest content (so not like cake, really).
Good for: Dedicated, serious learners who enjoy structured lessons. You get tons of context around the culture, grammar and history of the country too, so really good if you're planning to move abroad.
Bad for: The price is steep. A lot of iOS users also report bugs that make it impossible to sign in.
Extra features: You get free learning resources like their Language Learning Secrets book and a Road Map to Fluency.

Price: $29 per month. Note that it gives you access to all three languages.
---
The Bottom Line
As you can imagine, there is no magic bullet to help everyone learn every language on Earth fast, cheaply and proficiently.
In fact, one of the great advantages of language learning apps is that you can combine them to support your learning through different methods.
But still, here's what I would recommend:
For the most complete method: Busuu with the premium features is hard to beat.
The most fun: Memrise and DuoLingo are great, casual tools to use.
For dedicated learners: LinguLift or hiring a tutor via Preply can get you really far.
And that's it for the best language learning apps. Anything I missed? Feedback, comments? Let's chat in the section below!